The Wasa Express Sound Archive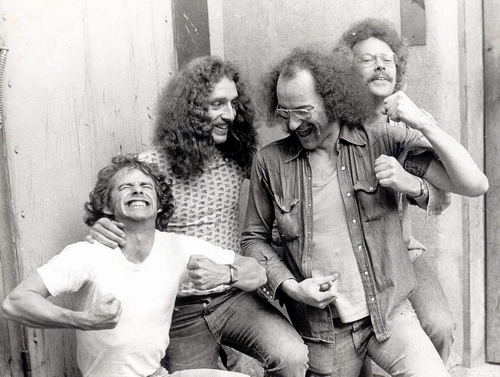 A hot summer night on June 17th, 1977 Wasa Express had a gig in
the garden of the museum of modern art in stockholm.
You may revisit that night by clicking the links below.
It's the original line up in action
Åke Eriksson, Drums
Bo Hallgren, Keyboards
Cary Sharaf, Guitar
Bo Häggström, Bass
January Man
Becken
Träskvandring
Mr. Curry
Hannibal Suite
New Tuna
Päronfreden
Oss 117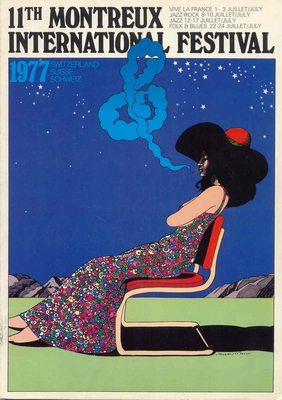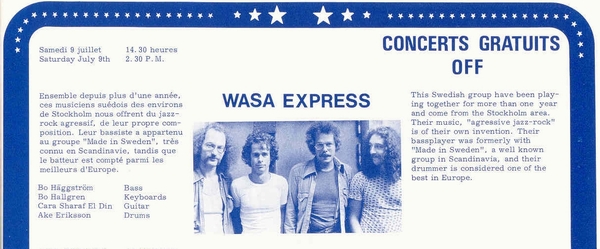 July 9, 1977 we had the opportunity to play at the Montreux Jazz Festival in Switzerland.
Do i have to tell you we were off like a flash.
Swiss Strut
Doing The Heavy Hannibal
Doing The Kopraal
Mr Curry
U_M_O
Stream the gig HERE
Wasa Express Live At Adolf Fredrik 1979
This was near the end for the 70's Wasa. November 16th we did this gig
at the Adolf Fredrik school in Stockholm. Some of the students had a tape machine rolling
And that was lucky for us since i later got it on a cassette tape and finally
some of the tracks ended up as bonus tracks on the 2004 re-issues of the old albums.
We had just return'd from a tour in germany so we were red hot live.
Less than a month later the band was laid to rest.
In I Dimman
A Teenage Werewolf
Viktor Vibratoo
Cocovoodoobana Song
Surfing Matilda
Jag är Bäst Schack Matt
The Nude Drummer
Kom Ut Ikväll
California Sun
Stream the lot HERE
Wasa Express at Stockholm Jazz Festival 2008
I think we're the only band to play both Sweden Rock festival (2004)
And Stockholm Jazz Festival (2008)
Two opposites perhaps but what a boring attitud. We had
Johnny Lundin with us at the jazz festival doing a country tune and
that shows where we stand. Music is music, as long as it's well done
who cares what you want to call it. Just enjoy it !
Afrodisiac
Gothenburg Express
Drum Battle
Doing The Kopraal
Stream the gig HERE